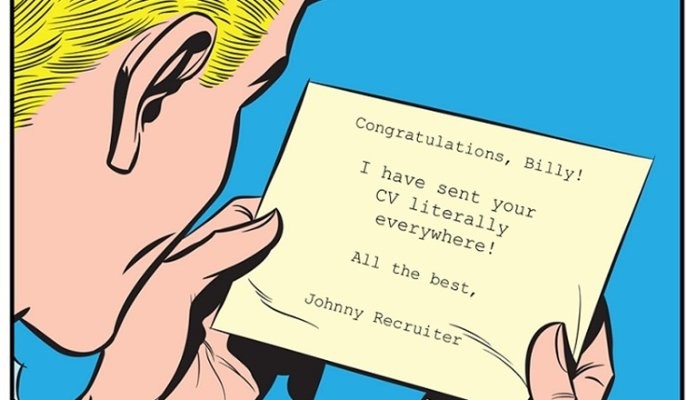 Job-rich 2015 needs more quality than ever…
"I've got nine interviews already… So I think I'm alright!" – he declared with glee, as he looked to end the conversation with the well-meaning Recruitment Agent who had been so pleased to have secured a time-slot to speak with him. That seemed to be that, thought the Agent, as he bid the potential candidate farewell, "Good luck with your interviews… make sure you keep the coffees flowing!" Not one, not two – but NINE interviews – perhaps the candidate was correct; he would be alright. Surely if he didn't secure a role out of that cluster of opportunities then something must be amiss.
Months passed, and the Agent often wondered about the one that got away. Where was he and what was he doing? Did he secure a role? A quick blast on the LinkedIn search tool soon found the guy. Great picture… He had obviously been on holiday! But wait – what has happened here? Two jobs in nine months?! Surely not, the guy was a superstar, a walking placement, an absolute no-brainer of a hire – he must have chosen the wrong option in the first place. Overly flattered, and in no small part confused, by the sheer volume of opportunity that had befallen him; the candidate had made the wrong choice.
A quick check-in call clarified the matter. A "big mistake" said the candidate "I simply couldn't see the wood for the trees and ended up enduring the most painful four months of my working life". He sounded gutted, thought the Agent, but what about the new role? " Well, it's alright – but I had to take a bit of a hit to get things back on track and am essentially in the same type of role I was when I started looking." A real shame. Each to their own though…
As you can see I am no Dickens – but the sentiment the rather flowery prose above serves to underpin is likely to strike a chord with many of my connections from the Recruitment world, and that is that there is no substitute for quality in the 21st Century Agency Recruitment arena.
Just to caveat that, in my opinion, it is a great achievement to secure 7, 8, 9, 10 or even more interviews for your candidates – what a bonanza! But of course these need to be well-matched, well-qualified opportunities for both client and candidate alike. Personally, over 2014, of the 63 candidates I represented only 12% had 5 or more interviews. The majority of those placed (76%) had only 1, 2 or 3 interviews.
In the Recruitment culture of the past 8 years, in which I have grown up and developed my own recruitment skillset and methodologies, there has always seemed to be a perception that you could sacrifice the detail in place of the volume. It's all about whether you make the placement, rather than how you did it. All about financial gratification rather than customer satisfaction.
During the relatively barren years of 2009-2013, certainly within the highly competitive Recruitment to Recruitment market, I genuinely believe there was a real increase in quality-led approach and it was pleasing to see this development. It seemed to be a trend that covered many markets I was familiar with at the time as well from a Recruitment perspective; Banking Technology, Pharmaceutical, Digital, and Media.
The circumstance of the market meant that less jobs, coupled with tighter HR, Regulatory, and Compliance controls created a bona-fide need for quality, detailed, analytical, and comprehensive recruitment solutions to be provided by Consultants and Agencies whatever their specialism.
Essentially a "job short" market has a positive impact on Recruitment practice. You simply have to up your game. Don't get me wrong though, they were very choppy waters that even some of the most notable ships struggled to navigate.
Sadly, as markets recover and productivity increases, I have begun to notice complacent, scatter-gun, and downright shoddy Recruitment practice creeping back in. Fundamentally Recruitment "Sales", as opposed to Fundamental Recruitment "Consultancy". Feedback from my own candidates about other agents they have been working with has revealed pressure into bizarre career choices, poorly-matched opportunities, fluffy and non-specific understanding of their client base, and an overriding generic approach.
There have been candidates with more interviews than the average number of Pigs in Blankets on a British Christmas Dinner plate. Candidates left to fend for themselves with no real understanding of what they are interviewing for, what the company they are meeting does, and indeed who they are supposed to be asking for at Reception. Even worse, in my mind, candidates who have not met their "Agent", or whose Agent has not met the Client they are pitching the candidate to.
A level deeper and Recruitment Consultants that I have spoken to recently suggest that the 90's and early to mid-00's volume emphasis has been given a solid bash on the crash trolley. Quantity-led recruitment is Alive & Kicking, Frankensteined in to a grotesque manifestation of its former self and reinvigorated for 2015. Eurgh!
As Connery said in Goldfinger – "Shocking. Positively Shocking."
An abundance of choice has left the candidate sold short by many agents in the recruitment market of 2015. In my sector companies are interviewing left, right, and centre – all after the "right candidate" (well, you wouldn't want the wrong one, would you?) and that is no doubt the case in the target markets that the companies Recruiters I speak to work for too.
Recruiters – as proponents of a consultative service do not forget to put requirements first be they from the candidate or client side. The requirement is fundamental to the process, and drives the quality of your own work. In recruitment a qualitative approach is truly more sustainable that a quantitative, and will provide you with a sturdy platform for your career development, market reputation, and the perception of the business you work for within the markets of its operation.
Sure – if you can smash home a triple hat-trick of interviews for your candidates you'll likely have a great chance of placing them. Just make sure you don't confuse matters for the candidate and end-up providing a poor and detrimental level of service for the sake of a sale. the likelihood is you;d be better off getting them 3-5 and really qualifying the relevance and appropriateness of them.
What the candidate needs, in this job-rich market, is a guide, a partner, and an advisor. Know your clients, know your candidates. Be a true representative of each. Achieve this and your continued and sustainable success should follow.
Good luck in 2015.